An old project
I'll never get around to finishing this. Like the book I started when I was 14, there are just some things that one may intend to finish… but won't. You move on, you decided it was undoable, you think it sucked… whatever. Let me say that in the case of the book… a cross between some teen sci-fi pulp series shit I read at the time and Star Trek (I told you I'm a freak)… it was a matter of total suckage. In the case of this project, however, it's time and inclination.
I had a project to do for my painting class last year. It was to take elements from different photographic sources and incorporate them into a piece. I started out with this project, but due to time constraints and a few fuckups, I wasn't able to finish and had to start something else. The 2nd piece wasn't nearly so problematic, and so I handed in that one for a grade, and the original project was set aside to try to finish in my free time. I did work on it some, but then I started lacking free time, and all work halted. I've picked it up now and again… but with drying time of oil so long, it became weeks in between simple (and not so simple) fixes or additions, and I've since lost interest.
I lost interest for a lot of reasons. Between not having a lot of time to work on it versus things that are new and fresh in my mind, having other projects to do for sculpture (or whatever other class) that were very time intensive (ie, that fucking unfinished, tossed out shoe), and my natural tendency (probably the Aries trait) of liking the "start" aspect of a project and not so much the "follow-through" or "finish" part of a project… The possibilities are endless.
I'm not saying I'll never finish the thing… I might. But, at the moment, I doubt it. At least, not for a loooong time. Considering I just now finished the painting I started for my gramma at about the same time, I think you see my point. heh
:
I used to belong to Men's Health's internet forum. This was after Otto and I had lost a bunch, and he had started looking there to help out when his weightloss had pretty much halted. When I left there (cemented by the fact that at some point my account and all 4000+ posts had been lost forever) I went to another board, frequented by some of the members of the MH board. These were guys I had a goodly amount of respect for, I liked them (most of the time), and they were fun to hang around. They had a decent amount of knowledge about health and fitness and lifting and junk. They were people that had seemed to make their lives much better (and thinner) by leading a much more healthy lifestyle than what we're led to believe the average American leads (pizza, fast food, candy, and anything else that will somehow make you fat and lazy). I'd learned a decent amount to keep going, I don't think I would have found the kind of resources I have available to me without some of these people's help. The need to help other people kept me going at times when perhaps I would have not, and so in that too they were a valuable resource.
I'd gone ahead and asked a couple of the men on the board a few questions. I got answers from some and not a peep from others. When I had enough people (as dictated to me by canvas size and a good painting instructor) I stopped, and so I probably didn't get to some of the people I would have liked, but that was better than having a cluttered canvas. I'd asked what animal people would choose to be had they the chance. I had pictures of their faces and images of animals, and had planned out a jungle scene with the sort of anthropomorphized animals… probably with morphed faces. This sort of surrealistic re-imagining of man and beast. It seemed like a fun project, and challenging enough to hold my interest.
I'd at least gotten the main form and colours down, and positioning of many. There were a couple missing, but they were to go in after a few more layers of paint, and so weren't placed yet. Of course, there were issues with paint and detail and background, you can even see some of the colour irregularities that would need to be dealt with before moving on, and this had already been through a couple fixes already, not to mention repositioning and re-scaling of the animals, and the ground layer that I was seriously beginning to hate. It was because of all that I had to sideline the project in favour of one that was a mix between a reproduced work from a master and photos I had of houses and Mousie. That one I'll scan in another time, maybe.
Since I never got any human characteristics down, I guess I don't need to worry about whether I show this or not. (I'd promised that I'd let the person(s) see his image(s) before publishing it.) Since I'm not likely to finish it anymore, I figured I'd at least put it somewhere in case I lost it. I've learned a lot about painting since then, so if I do ever go back, it'll likely look far more fantastical and freaky than it does now. But at this point in time, the painting, like the message board, is something I don't plan to return to. It's a past thing, and I just can't see myself being in that place anymore.
They were mainly a great bunch of guys tho. They'd earned my respect, which was the reason for the painting. Some of them even managed to keep it.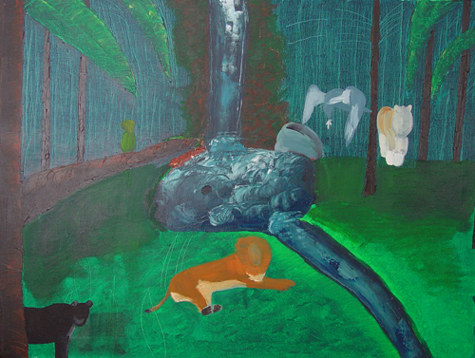 The underpainting for the parrot isn't terribly noticeable when scaled down this much. Oh well. For the curious there's a parrot, falcon, liger, panther, and tiger in the underpainting… I don't have the list and notes handy to know what all was going to be in it, but at this point I was still mainly doing the blocking and underpainting and therefore not everything that was going in was in yet.
At any rate, I find it a useful exercise in seeing something at a midpoint… and tying up a loose end. Now I can slide the canvas into packaging and not have it lying around taking up space, giving Mousie yet one more thing to cover in her fur.